How did you first meet?
We were out and about one night and I saw this gorgeous lady, hovering in front of me. Shannon was out with her friends and her sister, and I eventually plucked up the courage to say hello.
It took a few months to take her out on a date, but once we did, we hit it off.
How did you propose?
At the top of the rockafella Centre in New York exactly 2 years after we met each other – I didn't mess around!
If you like it, you should have put a ring on it as Beyonce said.
Where did you get married?
 Sant Ffraed House by Oldwalls
What attracted you to the venue? 
The house itself just blew our socks off. We were travelling back from London, and whilst in the car we were looking through Bridebook, and saw this venue we hadn't seen before. We saw it was in Abergavenny, and thought it looked amazing. Booked a viewing, and as soon as we walked in we just knew it was the one.
I thought to myself, I best get my credit card out ready!
We planned the whole wedding in 6 months. We were nervous at first as everyone was booked 3 years in advance, but this enabled us to focus, and get everything done and sorted.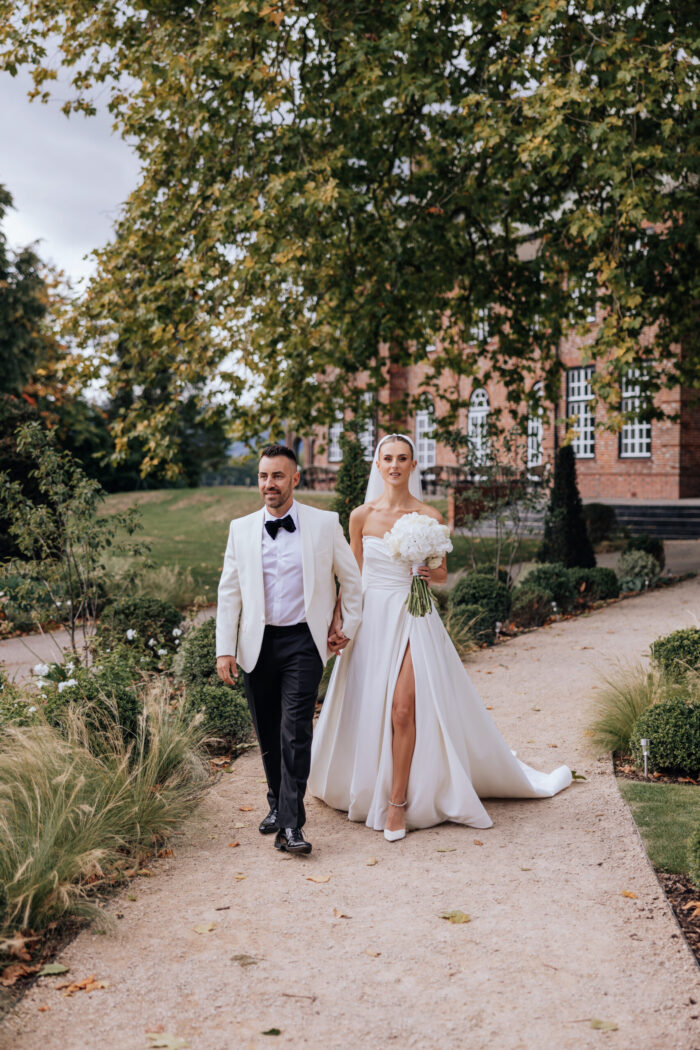 What did you wear? Tell us about your gowns…
The day dress was bought after the night dress.
When I went wedding dress shopping, we were on a timescale as we only had 6 months to find the perfect dress and have it made.
I went to couple of boutique shops, and they wouldn't let me try a few of the dresses on, as they said it wouldn't get it back in time.
I then went to One Bridal and fell in love with this dress, so I bought it, it was sparkly and sexy so I knew it would be the perfect dress for the evening.
For my day dress, I'd seen a style of dress that I liked and wanted to try on, so I went to Timeless elegance and they had it. It was plain and bigger with a long train and split up the leg. I fell in love with it.
I wore Jimmy Choos too which fit each style of dress.
How did your dress make you feel?
I felt amazing, both dresses were so different but equally as beautiful as each other.
My day dress was long, and my evening dress was perfect for dancing in the evening.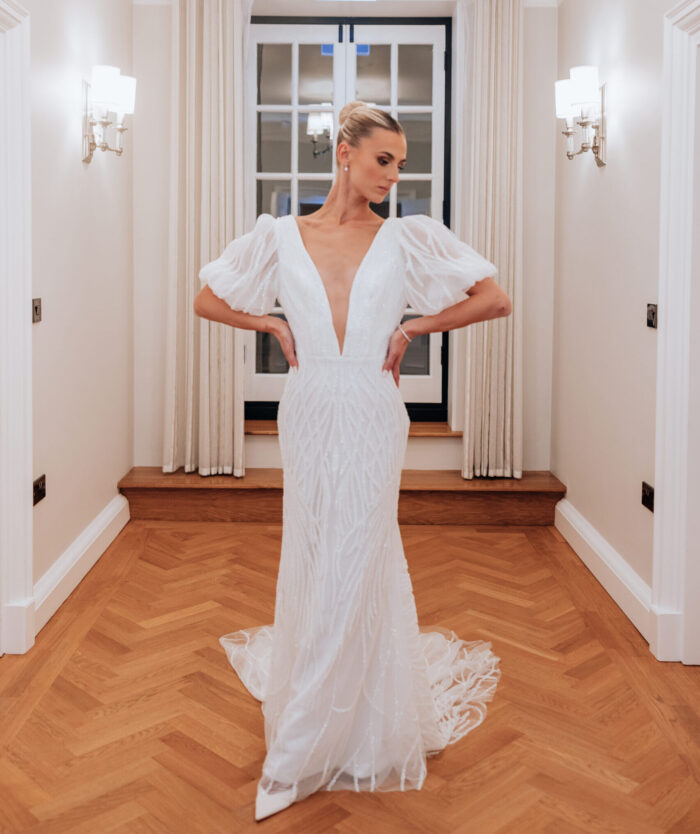 What was your wedding theme?
Modern neutral. We love neutral colours and we wanted it to be classy and elegant.
What stationary did you have?
We ordered a lot of our stationary from online. A few companies we used were papiay and rose signage and co.
How did you feel when you first saw him at the altar?
Shannon: I was so emotional, as soon as I came in, Rhys was in floods of tears, and I was trying not to cry so I didn't spoil my makeup.
I could feel myself tearing up and I was trying to compose myself. It felt so surreal that we were just about to get married.
Rhys: I remember everyone gasped and I thought omg here she comes.
It was like time stood still, you build yourself up over the years planning the wedding and how it's going to be, and then all of a sudden the day is finally here.
What was your best memory of the ceremony?
Seeing shannon coming down the aisle, the anticipation and build up of seeing each other for the first time, along with all our nearest and dearest in the same room.
You could really feel the love in that moment.
We invited all of our nieces & nephews because to us family is everything. Seeing VitaRose enjoy the day with her beloved cousins, running around the grounds in the sunshine was so heartwarming. I'm so happy our darling daughter was able to see us do this, proud parents!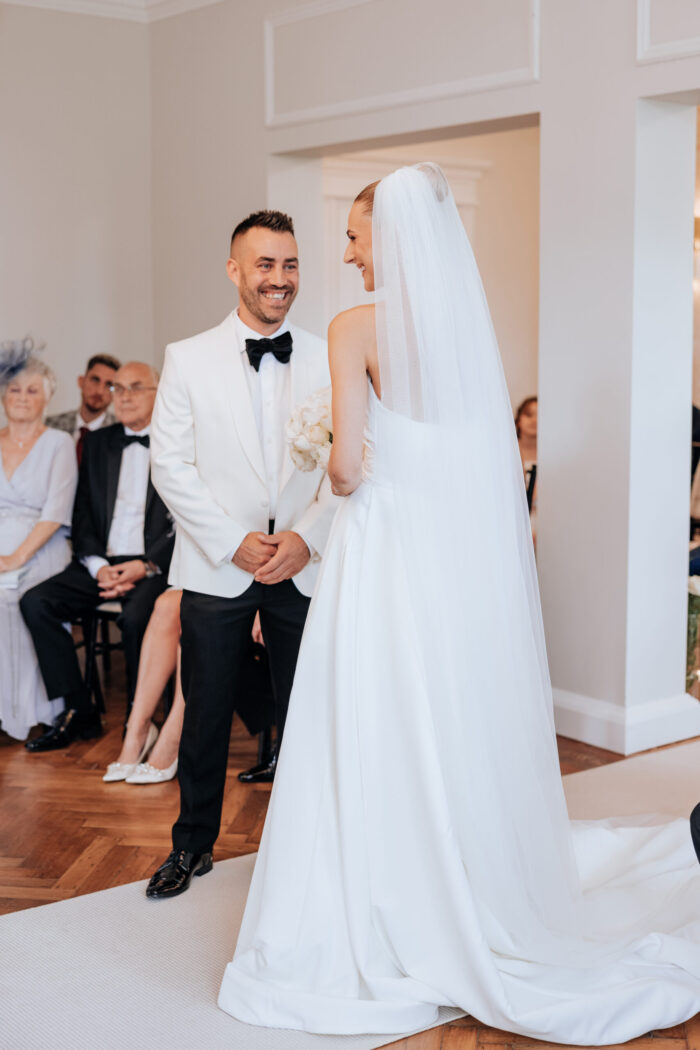 Tell us about your bridesmaids, who were they?
My three sisters, Jess, Seph and Jade and my cousin Joanna.
The bridesmaids dresses were from an online shop called Club L London.
Where were the suits from?
We got the suits from a varity of different places. The ushers suits were from slaters in Cardiff and Rhys's suit was from Reece.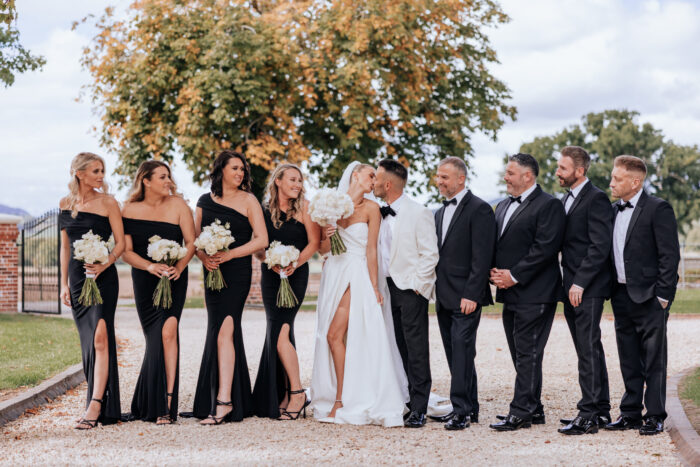 What was your first dance song?
I won't let you go by James Morrison.
Our best man got us a record of our first dance song, which was a lovely touch.
How did you entertain your guests?
We had Trendz party band in the evening and Rhys sang with the band too!
What was the cake like?
We had 3 tiers and 3 difference flavours. Bottom was victoria sandwich. Middle was white chocolate and raspberry, and the top was lemon and poppy seed.
There wasn't much cake left at the end of the night.
How did you feel on the day?
It was a rollercoaster of emotions. We felt overwhelmed and shocked at how quick the day went in reflection. You feel like you're here there and everywhere.
We had an overwhelming feeling of gratitude as people travelled from all over the world from Saudi Arabia to Neath!
Having all those people come to celebrate us, everyone was dressed up and there was so much love from the most important people in our lives.
We also had a memory table of those who couldn't be with us, so there was a lot of mixed emotions.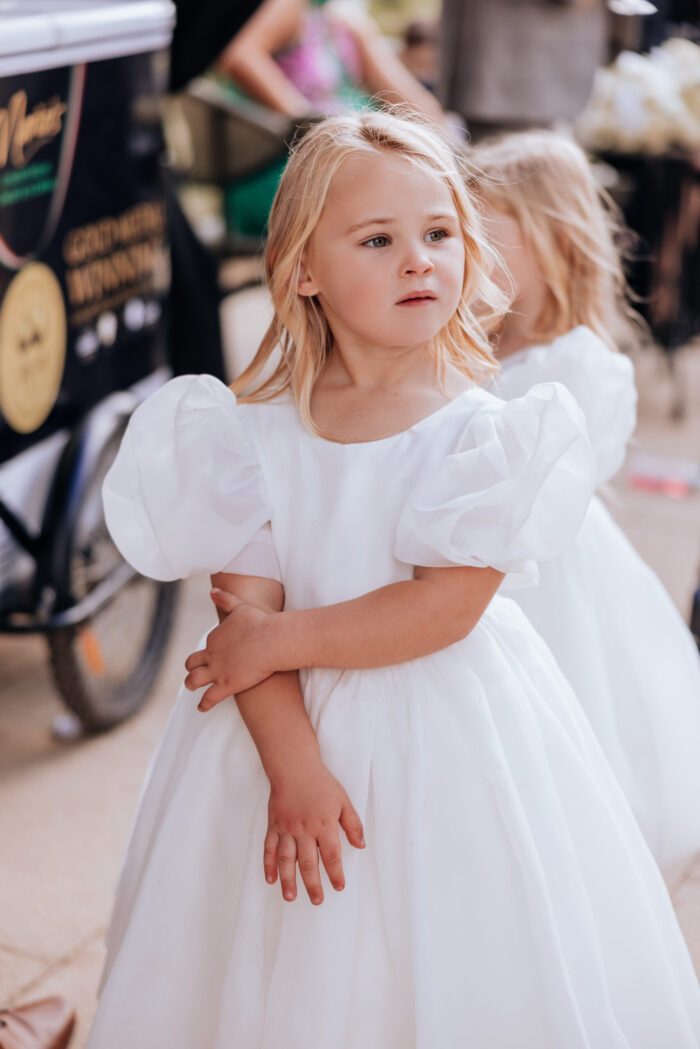 What's your recommendation to future couples getting married?

Focus on you, and enjoy the day because it just goes so quickly. Take it all in, every second and go bougie because you only do it once – no regrets!
And of course, do it at Sant Ffraed House. Everyone we spoke to and dealt with was so helpful. The whole venue exceeded our expectations. We couldn't recommend the staff and Sant Ffraed House enough!