How did you first meet?
It was an Instagram love story! I came across Laura's page from mutual friends and messaged her. A few weeks later we met at Bristol pride and have been inseparable ever since!!
How did you propose?
I had planned to propose to Laura for a while but due to covid restrictions I couldn't find the right moment! I finally plucked up the courage on new years eve in Cardiff surrounded by Christmas lights!
Where did you get married?
Sant Ffraed House
What attracted you to the venue?
We fell in love with the venue at first glance. The decor was stunning and the future plans for the k room was everything we were looking for and more. We wanted somewhere modern and stylish where all of our family could stay on site together to celebrate our big day!
What was your wedding theme?
We are black lovers so we went for black and white – black bridesmaid dresses and black tie! It was Halloween so the black theme was perfect! We had the white rose signature look decor which matched our white rose bouquets.
What stationary did you have?
We had a table plan, table numbers and a welcome sign which we designed ourselves . We had a photo guest book so that we could look back at photos as well as messages from our guests.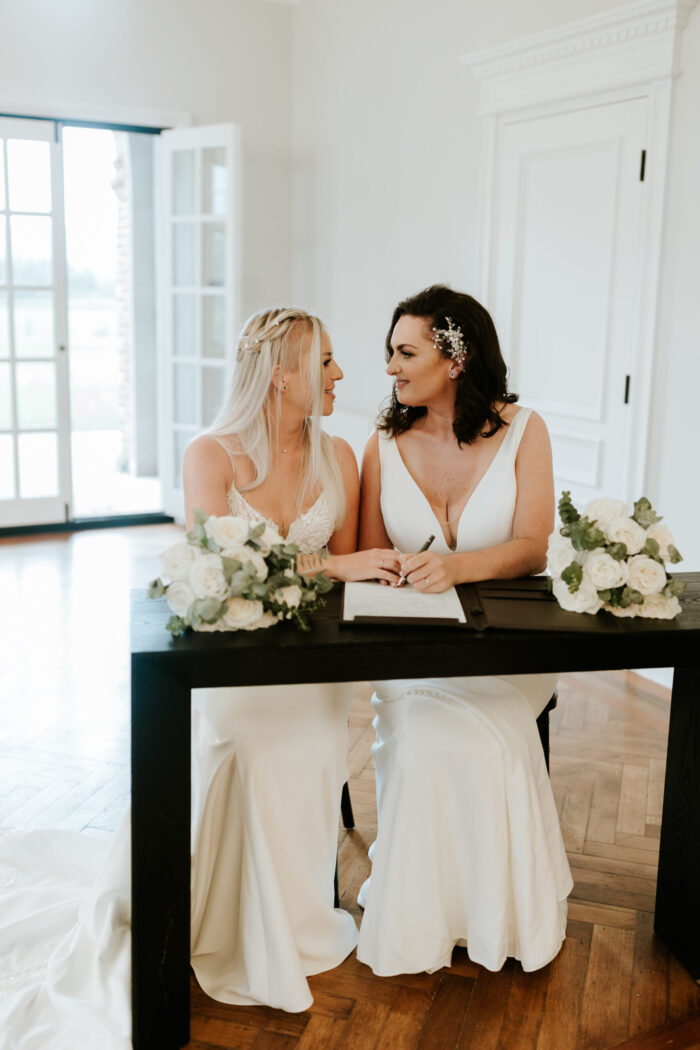 What did you wear? Tell us about your gowns…
My dress was sherwood crepe with a deep illusion v neck and a deep v-back. It had Tank straps with buttons trailing all the way down the centre of the train.
Lauras dress was ivory crepe with a plunging v neckline, beaded spaghetti straps and a sheer bodice with exposed boning with lace detail . It had a low back with sequins and buttons down a long train which had scalloped lace detail to add a hint of vintage.
In the evening we both decided to dress into something we felt more comfortable in which was a black bow tie with waistcoat and trousers.
How did your dress make you feel?
We felt beautiful on the day and our dresses matched perfectly! We hadn't seen each others dress before the wedding so we were pleasantly surprised when we noticed we had similar cut dresses which looked lush in photos.
How did you feel when you first saw her at the altar?
Speechless. We had never seen each other in a dress at all until our wedding day. Laura looked absolutely stunning. We both walked down the aisle separately, it was the most special moment, there wasn't a dry eye in the room and the love and support we felt in the room from our family and friends was amazing.
Tell us about your bridesmaids, who were they?
We had one bridesmaid each, I had my cousin Sophie and Laura had her sister Jess . We also had 3 page boys who insisted picking our trains up everywhere we walked, they made us so proud.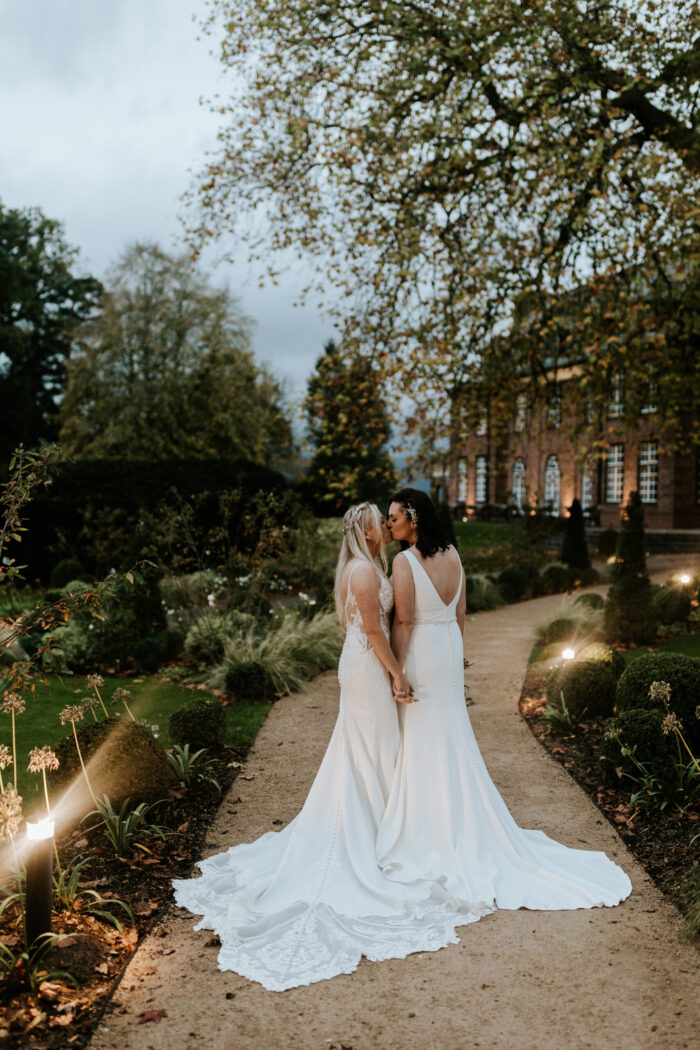 What was your best memory of the ceremony?
The funniest was when my best man forgot Lauras ring. During the ceremony my best man had to run upstairs in time for us to exchange rings! A nerve racking moment for him but it made all of our guests laugh.
What was your first dance song?
Amen from John Adams.
How did you entertain your guest?
We had a pianist for the ceremony- Joe pike was incredible. When we entered our reception we both danced in to ' Man I feel like a women' from Shania twain. It got everyone up dancing ready to start the party!
We had the John adams band in the evening which we highly recommend, our guests didn't want them to end! We also had a Dj who played in-between sets to keep the party going.
What was the cake like?
We had a black two tier cake from Bella cakes, we wanted something slightly different so we went for black icing with white roses up the side to fit in with our theme.
How did you feel on the day?
We both felt really relaxed and enjoyed every moment. It was for sure the best day of our lives.
What's your recommendation to future couples getting married?
Take in every moment , the day flies so make sure you take a couple of moments throughout the day to yourself as a married couple to appreciate your perfect day! And don't worry about how the day will plan out, the staff at Sant Ffraed House were amazing and took care of the whole day ensuring we were happy throughout!