Molly and Gareth tied the knot at Fairyhill in December 2021.
With the fires roaring and the Christmas decorations up, Fairyhill was the picture perfect setting for this cosy winter wedding.
How did you first meet?
Gareth and I are from the same hometown, Brecon. We met on a night out. 
How did he propose?
In New York. It was Gareth's 30th birthday. We went to the top of the Rock; I didn't expect it at all!
Where did you get married?
Fairyhill by Oldwalls 
What attracted you to the venue? 
We first visited the venue in December. The fires were all lit, the Christmas decorations were up, and we just fell in love with the cosiness of Fairyhill.
When we walked into the K room, it was set up ready for a wedding breakfast and that did it for us.
What was your wedding theme?
Simplicity. Whites and Greens.
What stationary did you have?
We had the order of the day, a table plan, table names which were silver wooden place names people could take home
For the favours we had pocket scratch cards saying 'we've tied the knot, we hope you hit the jackpot'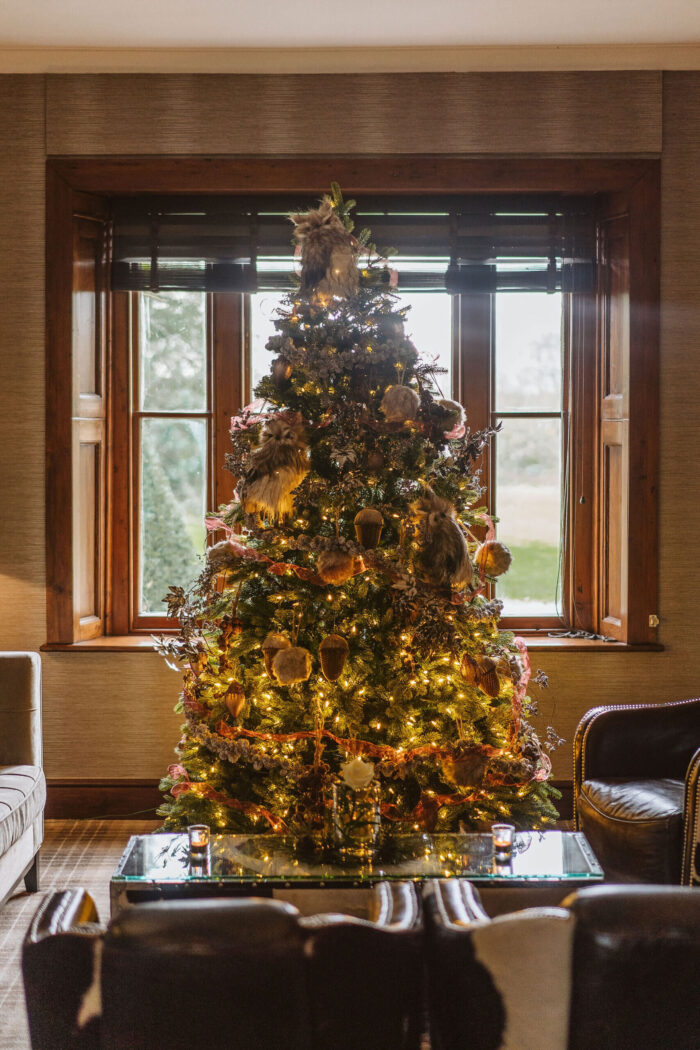 What did you wear? Tell us about your gown…
I tried on quite a few dresses from different dress shops before I chose the one. I'd seen it online and I just knew that was the dress I wanted to try. It was an A-line gown and I had off the shoulder lace straps added to it. I had it tailored to suit me, so it was a one-off dress. 
How did your dress make you feel?
It made me feel like a princess. I didn't think I'd go for this dress, I thought I'd go plain but I went the complete opposite! It's a dress you only wear once so I wanted it to be really 'wow' 
What did the groom wear and where were the suits from?
Dyfed menswear. The groomsmen wore grey suits with navy ties, and we had x4 page boys that had navy suits with navy ties. 
How did you feel when you first saw him at the altar?
I was nervous but really happy. When I saw him at the altar he burst into tears.
We were both overwhelmed, we got engaged in October 2019 and had 18 months to plan the wedding.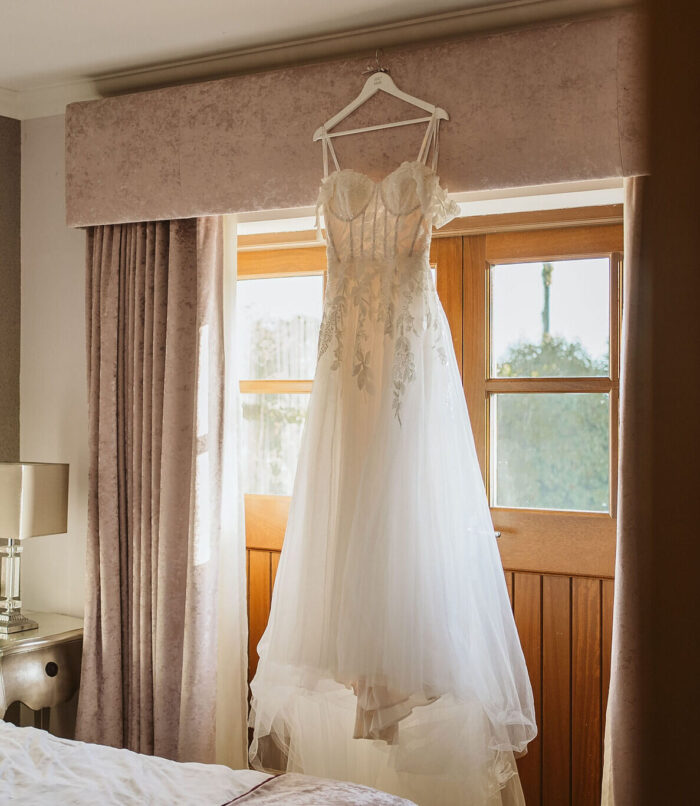 Tell us about your bridesmaids, who were they?
I had my Maid of honour, Gemma who is my best friend and five other bridesmaids. I also had a flower girl.
They wore Maya Deluxe dresses which were dusky blue with sequins on top.
What was your best memory of the ceremony?
When I got down the aisle and finally saw Gareth! He could see I was nervous; he was trying to comfort me.
What was your first dance song?
Lucas Graham Love Someone
How did you entertain your guests?
In the day we had Jeris Music and in the evening we had Fairyhill's house DJ. We also had a cocktail station for our guests to enjoy.
What was the cake like?
We had a brownie stack and a semi naked caked on top with flowers.
We opted for Biscoff and raspberry and white chocolate. 
How did you feel on the day?
I was nervous at the start of the day and before the ceremony. Afterwards I was more relaxed and happier and really enjoyed seeing and talking to everyone.
What's your recommendation to future couples getting married?

Try and make the most of the day as it goes so fast. Take it all in and enjoy the moment. Try not to worry about everyone else, they'll be having a good time.
I wish Gareth and I spent more moments together, taking ourselves to one side, and having time to reflect on the day.