Few people propose on a Yacht, but for Joseph, he knew this was exactly the right moment and the right place to ask the question.
It seems Meghann agreed, and together, they chose to say 'I do' in front of friends, family and loved ones at Oldwalls.
Commemorating their love for one another with a beautiful ceremony, it was truly a special moment to have witnessed. With two dresses for the occasion, Meghann truly stole the show and their wedding day was certainly one to be remembered.
How did you first meet?
Joe: Meg was 15/16 when I first met her, I was friends with her older brother, we used to play basketball together. Meg is 3 years younger than me. We always joke, that I was Meg's first crush. We used to go on family holidays together to centre parks and everyone would take the mick. We were good friends, and then lost touch as we both went to Uni, met new people and about 5/6 years had passed.
In 2015 me and Megs brother got back in touch and naturally I started thinking about Meg. I then saw her on a night out randomly and we hit it off as if no time had passed. I then asked Megs brother if I could date his sister…
Meg: I was 15 when I first met Joe, I was completely obsessed with him. He was my first crush. When I bumped into him it was instant. We got back in touch on Facebook and 3 months later we moved in with each other. When you know, you just know.
How did he propose?
Joe: After a year of being together we went to Dubai on holiday to celebrate our anniversary. When we were out there, I charted a yacht from Dubai marina and hid her parents downstairs in the yacht.
I put an 'out of order' sign on the door so Meg didn't go down there, if she knew her parents were in Dubai, she'd know something was up.
I pretended that I didn't know where we were going, so we jumped into a taxi to the marina to 'go for food' and then we went onto the yacht. We had a few drinks and some photos by the Burge Al Arab and then sailed to Burj Khalifa where I popped the question. Megs parents came upstairs then.
Meg: I was winding him up saying let's have a Titanic picture, and all I could hear was Jo saying 'Meg, Meg, Meg turn around'. I had no idea at all, I just thought he was going OTT with the anniversary.
He's setting the standard for our anniversaries…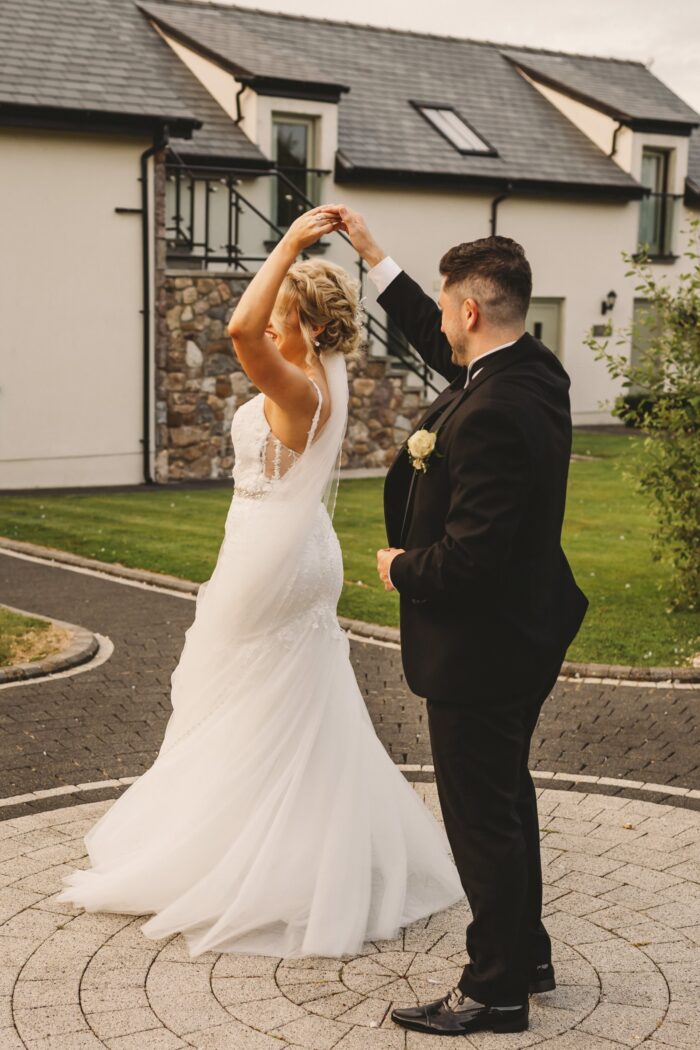 Where did you get married?
Oldwalls Gower
What attracted you to the venue? 
We were originally due to get married in Mexico. Covid meant our wedding was cancelled twice (abroad) so 3rd time lucky, we made the choice to get married at home.
We were due to fly out to Mexico on 27th March 2020, for our wedding in the April, but 2 weeks before, our flights got cancelled. We re-booked for 2021, and in August 2020 it got cancelled again. We just knew it wasn't going to be ready for April 2021.
We originally saw Oldwalls at a wedding Fayre in Cardiff depot. We looked at it, and knew that Oldwalls was an exclusive venue and thought it would be out of our price range.
When my mum mentioned about looking at wedding venues at home, we started looking. My mum suggested going to Oldwalls as we'd seen the brochure and knew it looked absolutely stunning. Oldwalls has been established for so long, we didn't imagine it would be so modern and up to date.
We had a meeting with our wedding consultant Claire, and it just had the wow factor. We were with Claire for over 2 ½ hours and we booked it there and then. We completely fell in love, the open plan, grounds, everything. It's just amazing, and it's constantly updating and improving to an amazing standard.
The service was amazing too. You felt special from the moment you walked through the doors. Even amongst covid, we felt really looked after. It really is the little things and attention to detail with them, even to offering you a drink as soon as you walk through the door. Every single time we visited the venue, you were made to feel welcome.
Our favourite part though was the food and wine tasting. What an experience. It was one of our favourite date nights. We sampled the wedding breakfast options and tasted all the wines.
Going from an aboard wedding to a home wedding, all throughout Covid, was stressful, but we had so much support. We were really overwhelmed at first having to speak to different vendors, but straight away Oldwalls gave us a pack, with information on local vendors and we discussed ideas and options with our wedding coordinator. Our coordinator really helped with the planning and the team was always on hand to support us.
What was your wedding theme?
Me and Joe are quite a soppy couple, we wanted the day to be intimate and romantic. We opted for a classic clean look, whites and greens.
Our originally colour scheme in Mexico was rose gold and blush pink, but we were heavily influenced by Oldwalls as they have a signature look. It's so classy and lovely there.
What stationary did you have?
We went for white and gold, clear candelabras for the centrepiece and tall vases with white flowers and greenery.
For the wedding favours we had miniature mason jar filled with cocktails. The bar team at Oldwalls put these together for us, and they blew our heads off! They were really sweet but they were rocket fuel. It was great that they were so strong.
What did you wear? Tell us about your gown…
I had two dresses. Both from Eva Ashley.
My first dress I picked out 4 years ago and was intended for Mexico. I've always been obsessed with fish tail and I couldn't change my mind from that.
When it came to the first wedding being cancelled, Eva Ashley opened an outlet store, so I convinced my mum to go and have a look to cheer us up. We just wanted to try on some dresses to feel that wow factor again… well, we ended up walking away with a 2nddress!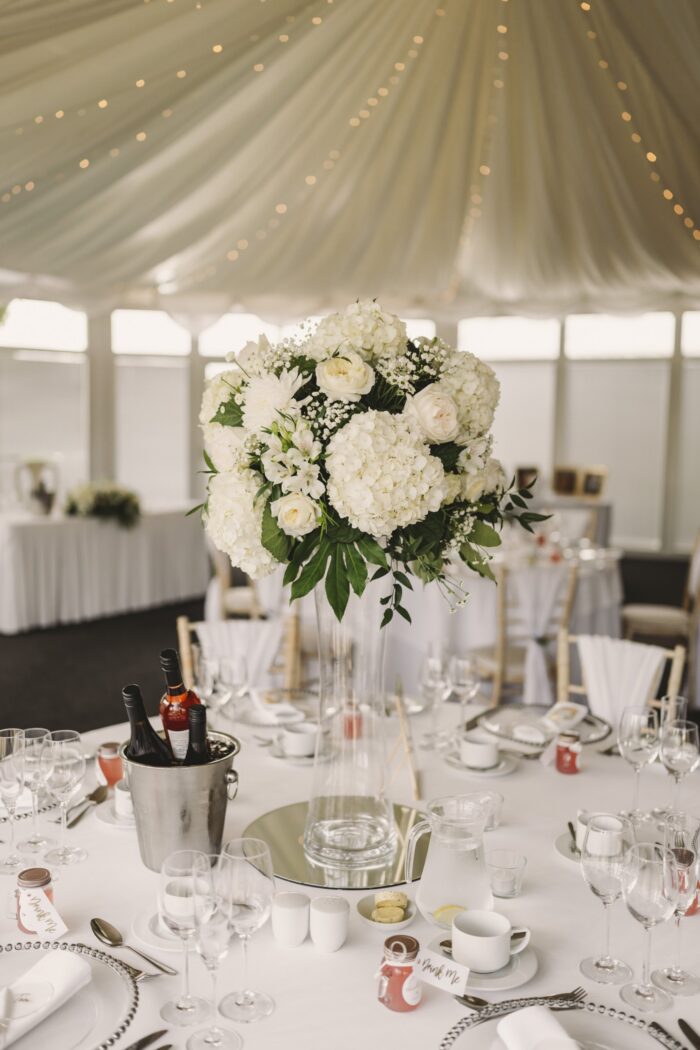 I loved both, they both had such different vibes, and again, the venue influenced the dress. Oldwalls is the type of venue that needs a dramatic dress. In turn this heavily influenced the suits, so we decided to go for black tie. Oldwalls is the perfect venue to carry a black tie wedding.
First dress was Eddy K Bridal
Second dress was Riki Dalal 
How did your dress make you feel?
I felt amazing. For me I never thought I'd wear a princess dress – I wanted to make the most of my body type with fish tail.
I know it sounds like a cliché but I felt like a princess.
My second dress was much lighter in the evening, and allowed me to dance throughout the night. We ended up doing the dirty dancing lift!
What did the groom wear and where were the suits from?
We originally had Camel suits from Moss Bros in Cardiff which were meant for Mexico. When we saw Oldwalls we decided to go black tie. Joe wore a Mark Darcy Tux from Practical Tailor in Neath.
Joe: I bought my tux so I can keep it. I'd like to wear it again on our cruise in December.
How did you feel when you first saw him at the altar?
Meg: Very happy, I got really emotional. Me and my dad were both emotional, my dad was crying all day long. I was beaming when I saw him bottom of aisle. All that relief, we were finally here and it was happening after 4 years planning.
Joe: Everyone makes a big deal of the groom crying, but I'm not a cryer. Meg had a horse and carriage and I could see that through the crack in the door, I wasn't nervous but I was really trying to hold it together. I kept pacing and fidgeting. I felt completely calm and tranquil, it just felt perfect, pure joy. It felt right.
Tell us about your bridesmaids, who were they?
My maid of honour was Elisha, and my bridesmaids were Kate, Charlotte, Hannah, Kirsty and Kimberly.
What was your best memory of the ceremony?
Meg: When we did our own vows, we did a mix of lovely dovey and funny ones as well such as 'I promise to share pizza with each other'
We walked in to a thousand years, as we did wait a thousand years and walked out to walking in Memphis, it's Jos favourite song.
What was your first dance song?
 You are the reason by Calum Scott and Leona Lewis
How did you entertain your guests?
As our wedding was during the covid restriction, we didn't have any evening entertainment. We were allowed a part time dance floor outside, which was located under the lake house.
(The lake house is situated in 50 acres of Gower gardens, overlooking a lake and the Gower countryside)
What was the cake like?
We designed the cake with Bella (@bespokebellacakes) she was fantastic, we sat down a week or two before the wedding, and saw 7 different pictures of cakes we liked from her Instagram page. We took bits from each design and created a 3/4 tier cake (One tier was a glass prism)
We wanted a plain cake so the pictures wouldn't outdate, and kept to our theme of white and green.  We had a hoop around the cake covered in flowers and a gold trim around the edges of the cake.
Flavours were, carrots cake, million shortbread, and strawberries and cream.
We also ended up having welsh cakes as favours for our guests.
How did you feel on the day?
Nothing was too much, between Debbie, the venue manager looking after us, and every member of team there, we felt so special and our family felt the same.
Every time I forgot where I put my prosecco  the team were there with a fresh glass. I always had a drink in hand.
Debbie made sure we had our own plate of canapés even when they came out for the guests.
There was such attention to detail throughout the day. Nothing went wrong. We felt so so special, and so you should on your wedding day. Oldwalls did it so perfectly.
Even the next morning, at no point did we feel like we were being rushed out. We knew the team were cleaning but at no point did we feel we were in the way. We felt important and that was lovely.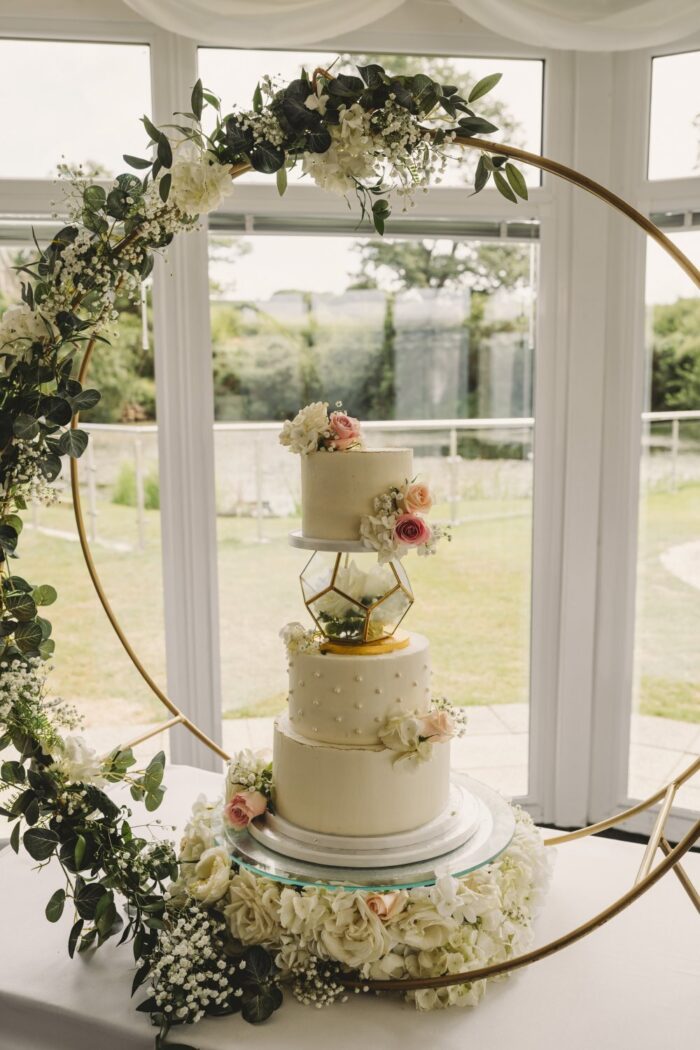 What's your recommendation to future couples getting married ?
Book Oldwalls!!
Trust the team and know that everything will be taken care of, even what you don't think of.
If you're going to visit Oldwalls, visit all of their venues – we didn't plan on seeing Oldwalls, and we're so so glad we did, just trust them.
The day was perfect, I know it's a cliché but we get to spend the rest of our lives knowing we had the truly perfect day for our wedding.
Trust your team, when they say it's going to be perfect, it's going to be perfect.
The standard that everything is done to, from the rooms to their the Rustic Retreat cottages, there is such attention to detail. You really feel the luxury.
Congratulations Mr and Mrs Protheroe! Here are some more images from Meghann and Joe's magical day…
Images by Marc Smith Photography