University sweethearts, Elin and Lloyd, were searching for a venue as beautiful on the inside as it was on the outside. They got married during the pandemic in 2020 in St Rhidian & St Illtyd's Church in Llanrhidian.
The rules only allowed 30 people outside, so Elin and Lloyd decided to celebrate on their one year anniversary at Fairyhill with all their family and friends.
How did you first meet?
Lloyd and I were in the same Uni halls at Cardiff University. We were introduced by various friends within the block and then officially met in the student union. We became friends first and then after one Tiger Tiger night, the rest is history…  
How did he propose?
Lloyd is not the most subtle of people and is definitely not great with surprises…
We went to Tuscany, Italy and Lloyd had planned it all, which was suspicious as I usually plan the holidays. The week before he was asking questions like 'If we were to get engaged what type of ring would you want?'
When we got to the airport, he wanted a lock for the suitcase and had to talk me through every step of the process. He even noticed I hadn't had my nails done and asked 'do you think you should get your nails done?' He thought he was totally subtle!
When we got to Tuscany, he'd organised a menu tasting at a Michelin star restaurant in our hotel. We both dressed up, and he was very nervous. There were only three other people in the restaurant, so it was nice and intimate. After we had dessert, he got down on one knee and proposed.
Where did you get married?
Fairyhill by Oldwalls.
What attracted you to the venue? 
I was torn between two venues. I decided on Fairyhill as it's got that traditional house feel, the oldy worldly heritage with a modern twist with the K room.
You get the best of both worlds. The grounds are also stunning!
The biggest thing for me, was finding a venue that suited all weathers, we don't know what the weather in Wales will be like, so it was important to find somewhere which had beauty and magic not only outside, but inside too.
The K room finished it off. You walk in and you're like 'wow'. It takes your breath away! 
What was your wedding theme?
Colour wise we had our Bridesmaids in blush and Groomsmen in a duck egg/ pale blue. Our stationary complemented those colours.
What stationary did you have?
We had loads of quirky bits and pieces. We had a table map designed which showed where in the world people were sitting.
Lloyd and I have been together 11 years and we've travelled everywhere so each table was based on a country that we'd been to. We also put a little story of something that happened in that country on the table to make it more personal.
Love Ellie Letters designed everything by hand and it was amazing!
What did you wear? Tell us about your gown…
I honestly didn't think I would be that person to say 'I'm wearing a Vera' the dresses are amazing, but I never thought I'd get one myself.
I was out with my friend, and she happened to say that The Wedding Gallery do Vera and before I knew it my friend had booked me in!
We went to the shop, tried on a few dresses. Some were ridiculous and we had a lot of fun. The last dress I tried on, didn't look much on the hanger, but I tried it on anyway and it was perfect!
I looked in the mirror and thought 'Oh my God!' it was fitted, had a lovely cut at the front but not too revealing. It gave it that modern edge. I didn't want a fish tail, but this was subtle, it came out at the bottom and the train was amazing!
It was a simple dress, no lace, very classic plus I got to wear it more than once!
How did your dress make you feel?
It made me feel like a million bucks! It was the perfect dress!
I just wanted to feel 'this is me' and the dress did exactly that.
I felt like a movie star going to the Oscars.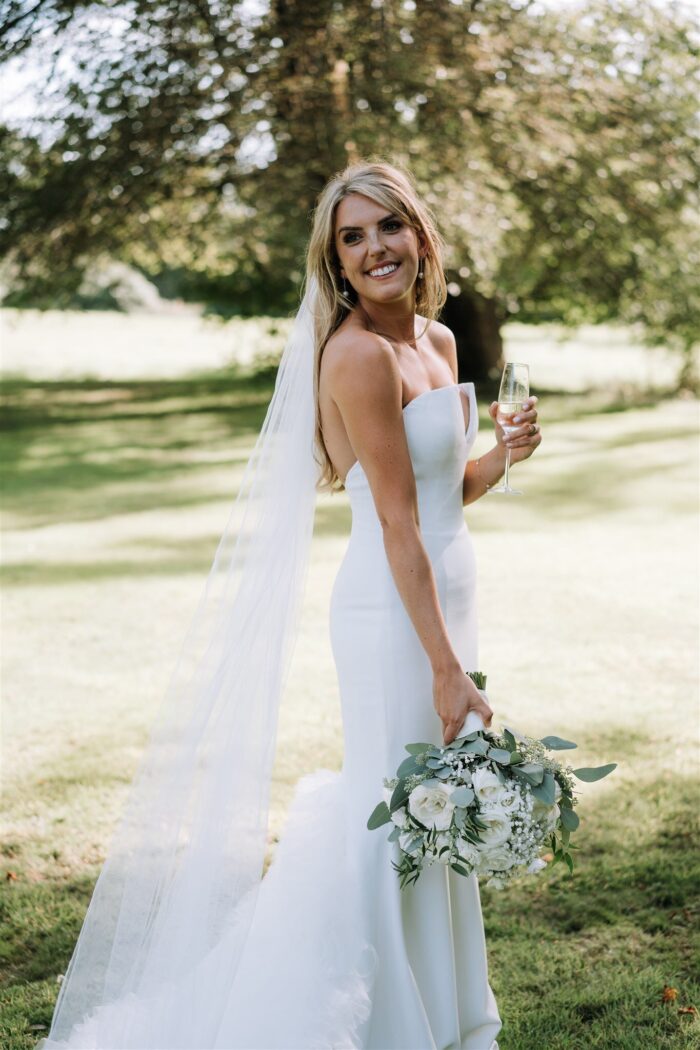 What did the groom wear and where were the suits from?
Lloyds suits were from Oxford House Menswear in Bridgend. He didn't want the standard black tux vibe; we wanted a summer / outdoorsy vibe, and we were so lucky with the weather. We opted for a light tweed style suit which was light blue.
How did you feel when you first saw him at the altar?
We officially got married during the pandemic in September 2020, so we had a blessing at Fairyhill. I was so excited; this was our time to party and celebrate with everyone who couldn't be there back in 2020.
Our best friend did the blessing outside in Fairyhill's outdoor ceremony area and we did funny vows like 'I vow to keep my clothes off the bed'. 
Tell us about your bridesmaids, who were they?
I had five bridesmaids and one brides man. Daisy is my best friend from uni and my other bridesmaids (and brides man), Tom, Lysha, Glesni, Llinos and Emma, are best friends from secondary school. We've been friends for over 15 years and they're my 'home clique'.
What was your best memory of the ceremony?
As we were already husband and wife, when it got to the 'I now pronounce you husband and wife' line, we were given a huge shot of vodka and a shot of whiskey and toasted 'here's to us partying the day away' we couldn't stop laughing because we couldn't do the shot. It was such a random but very special ceremony.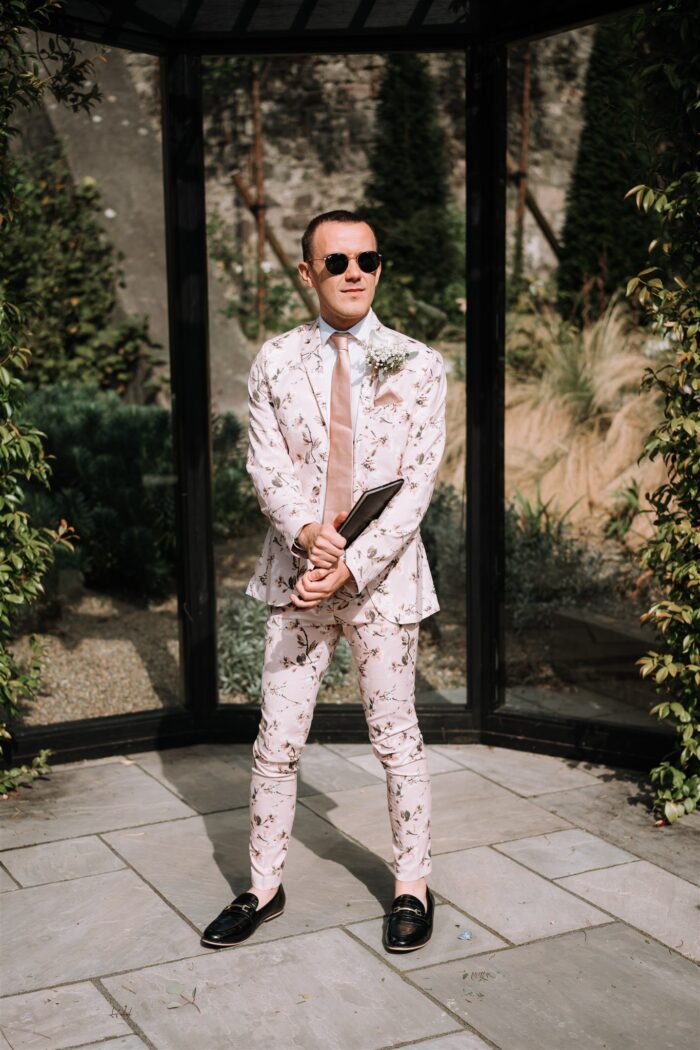 What was your first dance song?
Forever, Chris Brown.
We had a band called Tuxfizz who were amazing! They did an acoustic version and it sounded like a completely different song. It transported us back to our uni days.
How did you entertain your guests?
Band – Tuxfizz (@tuxfizz)
Saxophonist – Ffion Wyn Sax
We also had beer pong outside which was amazing! I spent most of my time there.
We wanted people to feel like they were away in Ibiza sipping on cocktails and enjoying the good weather and good vibes. 
What was the cake like?
We had a 3-layer white chocolate Victoria Sponge cake supported by 130 French macrons which were in the same blush colours as the bridesmaid dresses.
How did you feel on the day?
Ecstatic. It was like an out of body experience. It was the first time we'd been together with all our family and friends since before the pandemic. We were dancing, hugging, drinking, it felt so surreal. The day was full of happiness, and we had the best time.
What's your recommendation to future couples getting married?

It's all about compromise. You have to find the middle ground; you might find certain things more important than they do and vice versa, but it's all about compromise and making sure you both get the day that you want and deserve!