Catherine and Ryan tied the knot at Oldwalls on 18th December 2021.
After postponing their wedding three times here's what they had to say about their day…
How did you first meet?
Ryan and I went to the same school. I was 16 and he was 18, that's when we first started going out with each other.
How did he propose?
It was my birthday and we'd not long had our son Dougie. We went to a log cabin in England for the week. At midnight on my birthday, while we were in the hot tub, he proposed, it was a total surprise!
Where did you get married?
Oldwalls Gower
What attracted you to the venue? 
It's so amazing! We've been to so many weddings so knew what we liked and didn't like. When we came to Oldwalls, we just knew. We didn't care how long we had to wait or how much it was going to cost; we just knew we wanted our wedding there.
The venue flowed perfectly. Other venues we'd been to there were different floors and rooms, but Oldwalls flowed nicely.
The service and staff were amazing too, as soon as we walked in, we felt like celebrities.
What was your wedding theme?
Ivory and black tie.
What stationary did you have?
We used a company called LUMI events and they did all our menus, table plans, order of the day, post box and table numbers.
We also had nut crackers, a sweet table, and confetti cones.
We hired a Tepee for the kids which had balloons and toys in there to keep them entertained.
What did you wear? Tell us about your gown…
I had two dresses and wore my 2nd dress for the wedding. I went off my first dress. With Covid and having a baby in between, I went back to my old figure and the dress didn't fit me like it once did. I lost weight and I wanted to feel nice.
I went to Yasmin Rose in Cardiff and tried on a few dresses there.
My original dress was sparkly with lace, and my 2nd dress which I ended up wearing was plain with an over skirt, which I took off in the evening.
How did your dress make you feel?
I felt amazing!
I got to wear my mums fur jacket that she wore for her wedding with my dad in 1988 which was amazing and sentimental.
What did the groom wear and where were the suits from?
The suits were from Dyfed Menswear, and they all wore black tux
How did you feel when you first saw him at the altar?
I was emotional. Dougie our little boy was really ill on the day, and we didn't know why. Turned out he had scarlet fever. He was so excited for the wedding too.
I was 45 minutes late as Dougie didn't want to put his suit or shoes on and didn't want to wait at the front with Ryan. He walked in between me and my dad down the aisle and stood between me and Ryan the whole time throughout the ceremony.
Ryan was stressed because I was so late, so it was very emotional when we finally saw each other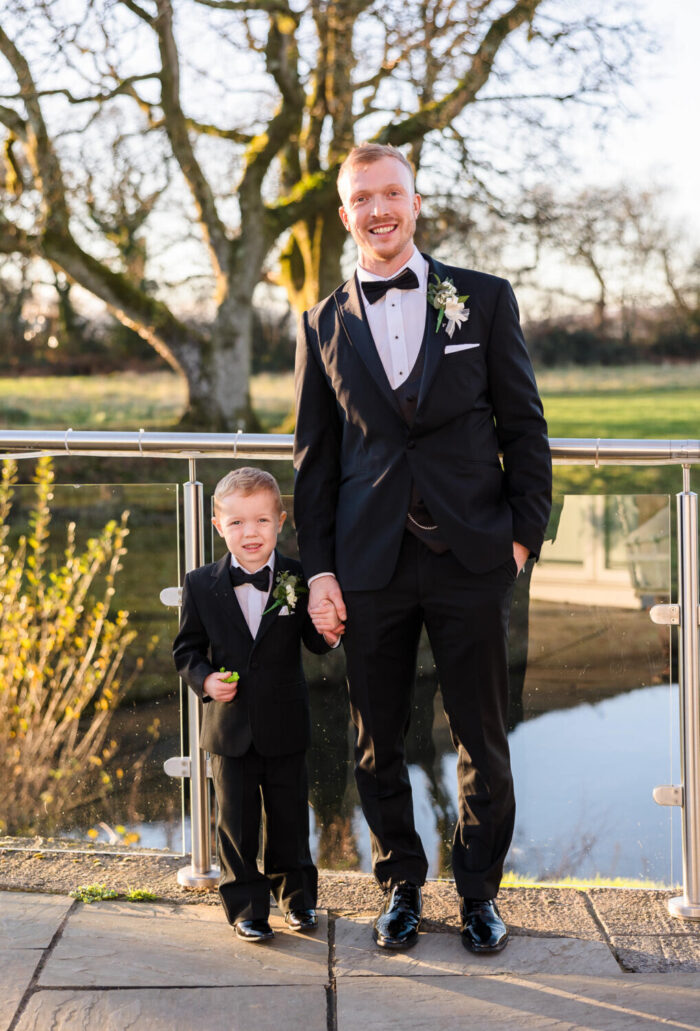 Tell us about your bridesmaids, who were they?
I had 4 bridesmaids, all best friends and they wore short ivory dresses
What was your best memory of the ceremony?
It must be Dougie standing in between us the whole time throughout the ceremony. It was so funny, he wouldn't move. He was even between us when we had our first kiss.
What was your first dance song?
Wherever you will go by The Calling
How did you entertain your guests?
Ryan's friend and best man have a band called Cover up and they played in the wedding for us
What was the cake like?
We had four tiers with all different flavours. The cake was plain white, and we added some real flowers onto it.
The flavours we chose were white chocolate and raspberry, sticky toffee pudding, chocolate orange and lemon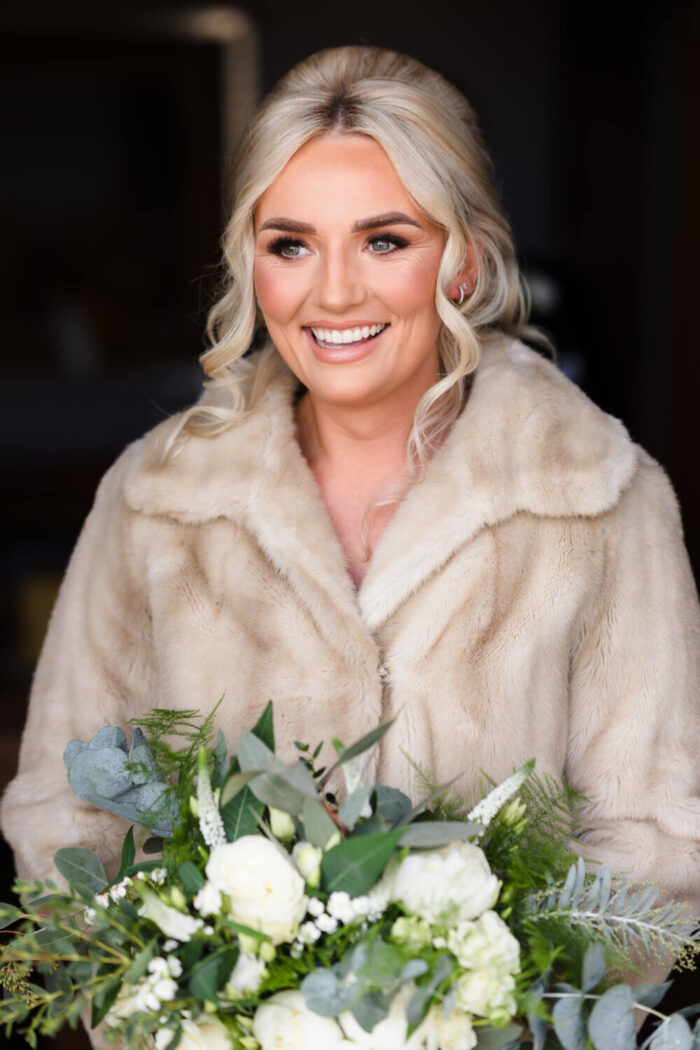 How did you feel on the day?
Amazing. It goes so fast!
We had to reschedule our wedding three times due to covid. We were meant to get married in August 2020, then we moved it to December 2020, then finally we tied the knot in December 2021.
We were so lucky, we knew restrictions were coming back, but our wedding was just before they came back into play.
The weather was also amazing! It was cold, but it was so sunny.
What's your recommendation to future couples getting married?

Enjoy every minute it as it really does go so fast.
I would have a videographer too. One of my favourite moments was watching it back. When you're in the moment you forget some parts of the day like the speeches. It's nice to watch it back and see all the little things you forget on the day.