On Saturday 3rd October 2020, we got to celebrate the marriage of Jody and Daniel.
The couple decided that no matter what, they were going to tie the knot on the date they always had their hearts set on, and what an enchanting day it was.
From planning their wedding during a global pandemic, a local lockdown and tackling storm Alex, nothing was going to stop Jody and Daniel from saying I do.
The couple said their vows at an intimate ceremony in our K room with 24 of their closest family and friends followed by a private dining experience as husband and wife, prepared and cooked by our very own executive head chef Chris Keenan.
We caught up with Mr and Mrs Rothwell about their COVID wedding…
Tell us about your relationship…
We met on the 21stJune 2015. Dan had broken his leg and was hobbling around on his crutches, drinking coffee. I bumped into him at Verdi's café in Mumbles, Swansea and he invited me to join him. The rest as they say, is history.
Tell us your proposal story… 
We got engaged on 29th November 2017 in Copenhagen, it was freezing!
I made Jody a puzzle. It was of the different stages of our relationship and life together. I gave the puzzle to Jody in 5 different envelopes, and she had to put the parts together as she opened each envelope. When we put together the 3rd puzzle she realised what was going on.
Tell us all about your wedding dress. What was it like? 
My dress was totally different to what I expected to wear, it was just perfect. I went for a Pronovias dress which was a ivory, classic, ballgown style with details on the side and back and buttons all the way down the back.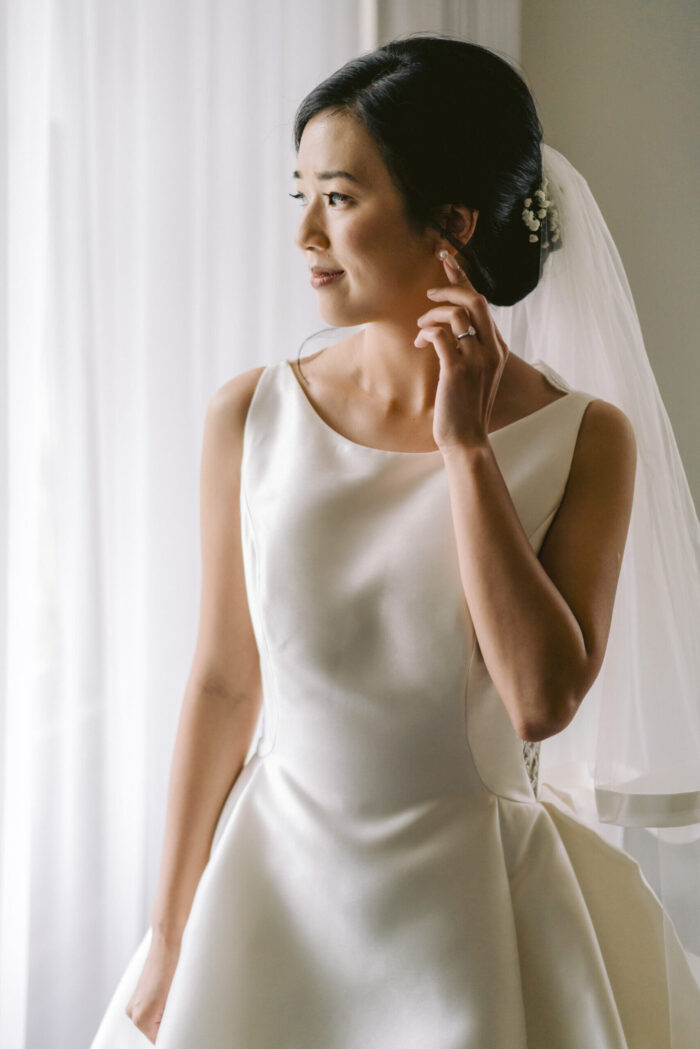 What made you choose it? 
I tried on quite a few dresses. I went to around 3 or 4 different bridal shops, and the 3rd shop I went into, Allison Jayne Bridal, I tried on the pronovias dress and it fitted so nicely. I couldn't find anything else that I loved, I just couldn't get the dress out of my head.
How many did you try on before you found that special 'one'? 
Loads!
How many bridesmaids did you have, and who were they? 
I had 2 bridesmaid. Both are old school friends who I've known since I was 11. We've been friends for about 20 years.
What were the dresses like and where were they from? 
I had the dresses from Maids to measure. I decided to go for a frosted fig colour and different styles. One of the dresses had cap sleeves and the other was sleeveless.
What did you and your groomsmen wear on the wedding day? 
They wore black Tuxedoxs. Dan's Best man was his younger brother. He also had 2 ushers who were ex-work colleagues who he's known for around 10 years.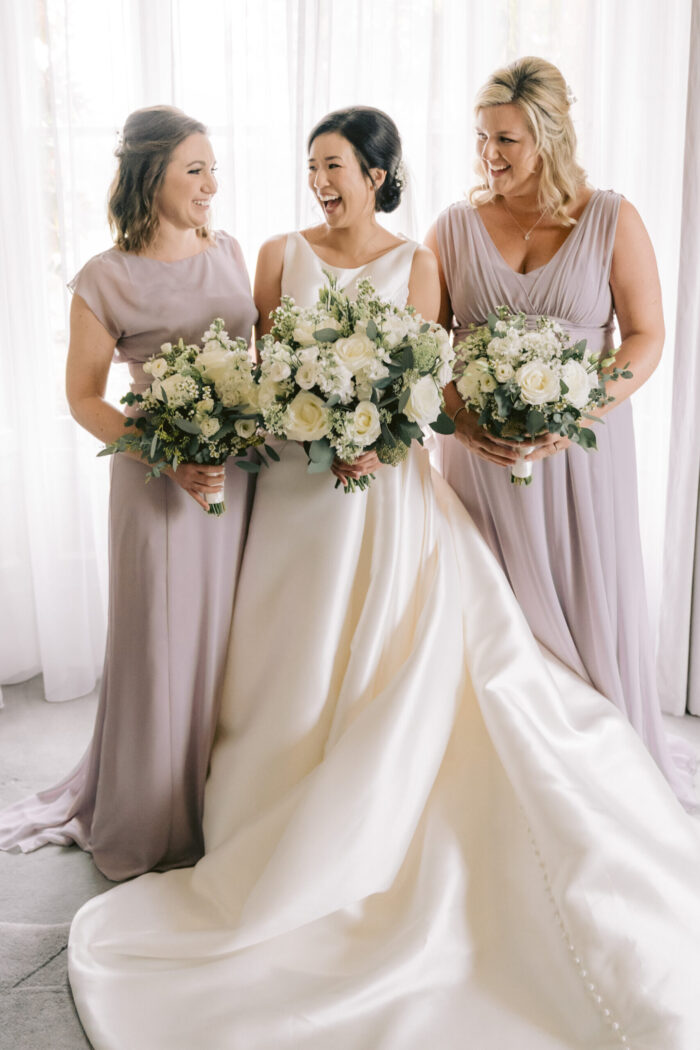 Describe your wedding ceremony… Any memorable moments you want to share?
The day was so lovely and intimate. We got to share our special day with our closest family and friends. The ceremony was a little different as we had to wear masks, but it didn't take away anything from the day.
Fairyhill also provided a live streaming service, so lots of our friends who weren't able to make the day tuned in. It was so nice knowing they could be apart of the wedding even though they weren't physically there, we knew they were there virtually.
Dan added 'Jody looked beautiful even with the mask on'
What made you choose Fairyhill? 
We had looked at a few places. Fairyhill was the first venue we visited. We ended up comparing everything else to it, we knew straight away it was the one.
When we first visited the K room, it was under construction, so we were shown artist rendering and had a VR tour of the room. We looked all across South Wales and nothing else compared.
The K room, where you get married, is a panoramic circular array of windows and is surrounded by greenery. It's just beautiful.
What was the best thing about your wedding venue?
The K room is gorgeous, and the venue itself is tucked away from everything. It feels like you could be anywhere in the world even though you're still in Swansea, Gower. It's so secluded, plus the venue is exclusive, so it's just you and your guests for the day.
We had 19 guests on the day, and the venue didn't feel empty at all. It was so intimate and romantic, everything about it was perfect.
What colour scheme/theme did you have? 
We went for classic, whites and greens. We had a few extra flowers in our arch from Eve Francesca Design. We weren't expecting it to be that big, we were blown away, it was perfect.
What did you have for food? 
After the ceremony we had canapes – Belly pork, Welsh Rarebit and Moroccan chicken. It was absolutely delicious.
As we were in a local lockdown (Fairyhill is based in Swansea, Gower) we weren't allowed to have a reception, and our close friends from outside of Swansea weren't able to stay after the ceremony, so we ended up having a bespoke private dinner in one of Fairyhill's Rustic retreat cottages with the executive head chef of Fairyhill cooking for just the two of us.
What was your favourite dish?
Chris Keenan the executive head chef at Fairyhill hosted a private dining evening for us at The Coach House (One of Fairyhill's Rustic Retreat cottages).
For starters we had smashed duck & parsnip soup, for mains we had chateaubriand steakwith potatoes, green beans and asparagus and for dessert we had a trio of desserts – Creme Brulee, Profiterole, Pear Tart & Ice Cream and Dan had the Gower berry Eton mess. It was so romantic.
Describe your bouquet… 
Our bouquet was created by the very talented Eve Francesca Designs. We had white roses & green foliage. The flowers were absolutely beautiful.
Were flowers used in your venue décor? 
White roses and greenery
Who arranged your wedding flowers? 
Eve Francesca Designs
Describe your wedding cake: flavours, tiers & style? 
Lemon sponge with plain buttercream. We had 1 tier, nice and simple.
Who made your wedding cake? 
Get Caked – @getcakedbakehouse
Did you have any entertainment at your wedding? 
Katie Bayliss harpist, during the ceremony.
What was your first dance? 
XO – John Mayer.
Any extra special memorable moments? 
We had our photos taken 15 minutes from Fairyhill, at Rhossili Bay. It was during storm Alex so it was very windy and very memorable. My dress needed a dry clean afterwards, but it was totally worth it for the epic cliff shots.
How did you find planning your wedding during coronavirus? 
It was okay up until week before when everything changed. Swansea went into a local lockdown which meant our guests travelling from outside of Swansea we only able to join us for the ceremony.
We ended up planning everything a week before the wedding. Our suppliers were amazing and everyone was on board. We adapted to the situation and challenges. As long as you communicate with everyone, planning is fine. Inevitably things change but you have to adapt and be flexible with your plans. The most important thing for us was to get married. Even though it took us 2 and ½ years of planning, we had the most perfect day.
Are you planning on having another celebration in 2021? 
We haven't planned anything as yet but we are hoping to have a big celebration when things get back to normal. We feel a lot more relaxed now we're married.
What was your favourite moment in the day?
Just after we got married, walking back up the aisle. I felt a sense of relief, happiness and love. I remember smiling and waving as we walked past the livestream camera.
All of my worries and stress just disappeared on the day.
Any tips you can give you other brides going through the same journey? 
Remember why you're getting married, your love for each other will always win. Planning can be stressful but try to enjoy it, you'll never do it again, so go for it!
My worry was about not having the perfect day but it was perfect the way it was, in every sense of the word. It's definitely a story to tell in days to come!
Congratulations Mr and Mrs Rothwell. We wish you all the joy, love and happiness as you begin your new life together.